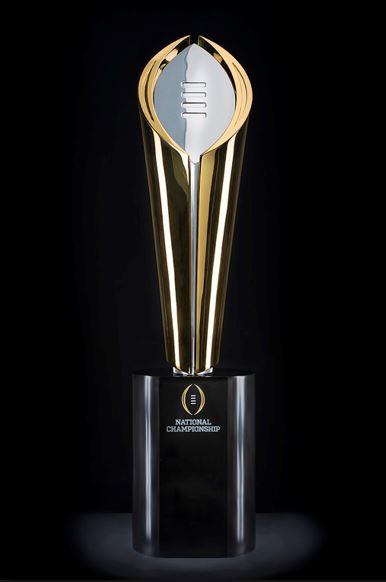 Three Wins Bigger than The 2018 College Football Championship Itself
In today's fast-paced and competitive world, augmented by the divisions of politics, beliefs, and alignment with our favorite sports teams, I wanted to point out the example of three huge wins that I witnessed in the 2018 College Football National Championship game.
I should note that there has been some time pass now since this example and my decision to share this article. The time lapse has only strengthened the deserved praise of all individuals and teams referenced.
While the two teams in the 2018 College Football National Championship were Georgia and Alabama, this is not just a story about those two teams.
Instead, this is recognition of the individual examples of those referenced and the character & sportsmanship they displayed regardless of what teams they represented.
I view the following three wins and their examples as extremely valuable as they seem too often to be missing or devalued in pursuit of "the win" itself, but first, the game recap for those that may not be aware of the relevant details.
The Game Recap
In the 2018 College Football National Championship game, after only a couple of plays, Georgia quarterback Jake Fromm attempted a pass downfield and was intercepted by Alabama player Tony Brown. The Alabama Crimson Tide started their first drive of the game, and eleven plays later, that drive ended with Alabama kicker Andy Pappanastos missing a 40-yard field goal. The teams both had three-and-outs for the game's first two possessions ending in punts. The Alabama quarterback Jalen Hurts was met with a strong defense that held Alabama to field goal attempts only. The halftime score was 13-0, Georgia.
In the second half, Tua Tagovailoa, Alabama's backup quarterback at the time, started for the Tide; that drive ended in another three-and-out. As the second half played out, Tua utilized an air attack that seemed to be more difficult for Georgia to defend. The fourth quarter saw Tagovailoa lead the Tide to a scoring come back and tie the game at 20 with just a little over three minutes left in the game. The Alabama scoring was aided by the defensive units also, and unexpected contributions by Daron Payne. With three seconds remaining in the game, Alabama kicker Andy Pappanastos missed a potential game-winning 36-yard field goal, and the game went to overtime.
In Overtime, Georgia scored first on a 51-yard field goal, by the seemingly always consistent Rodrigo Blankenship. On Alabama's first offensive play, Tagovailoa was sacked for a 16-yard loss. The next snap of the ball was second and twenty-six which saw Tua throw a game-winning 41-yard touchdown pass to DeVonta Smith.
On to the post-game interviews and the commentary for our "Three Wins Bigger Than the 2018 National College Football Championship Itself."
Win Number One:
THE MEANING OF TEAM: Team Effort, The Win of Team and Sportsmanship
The clock had barely ticked introducing the second half before the commentary of the sports announcers zeroed in on the change at quarterback for the Tide. Alabama Coach Nick Saban had sent out a college freshman, Tua Tagovailoa, who had not started in a collegiate game, instead of the tested Jalen Hurts, who with a strong winning overall record had lead Alabama to the previous year's National Championship game, and to the current place in this year's season.
In spite of the outside noise and speculation as to what was happening at the quarterback position, Jalen cheered for and supported Tua from the sideline.
While commentators framed the events using phrases that did not denote team and unification, Jalen demonstrated team and unification where he was.
The Championship was to find the best "Team", and we were seeing teamwork together now in a way that was unexpected and not being recognized at the time.
The commentators for the game seemed to be immediately moved to a spirit of a division of teammates by the change at quarterback.
In spite of how the change at quarterback was framed by everyone else, Jalen and Tua both demonstrated unity and support for one another. Together, they celebrated the win as part of a team.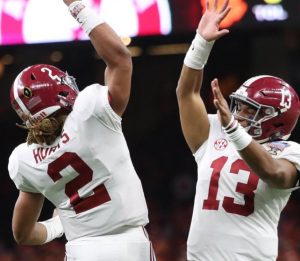 Even in the postgame interviews, when asked how things occurred and what did he say to Tua, Jalen said his words to Tua were, "Ball- play ball, do what you do."
Teammates know each other's strengths and weaknesses. Jalen knew he had been well scouted as the Bulldogs developed a game plan and Tua had a different skill set of primary strength. The Passing game.
TEAM has a great acronym demonstrated here.
Together We Achieve More
It was a Bulldog team effort that gave Georgia the halftime lead. It was a Tide team effort that allowed them to switch gears from the usual ground game offense to a passing game. It was a team effort on both sides that sent the game into overtime.
A chain is only as strong as its weakest link, and different chains often have different purposes.
True team effort is when an individual is willing to recognize when the current need of the team might mean being supportive for a season as the differing talents of another teammate may fill the present need.
On both sides of the ball, without every contribution of each offensive, defensive and special team's player, the game would never have reached the tie score and went into overtime.  This is a team sport, and we saw great examples of that on both sides of the ball. I chose the Alabama QB's to focus on because the outside influences addressed it in a divisionary matter missing all of the positive examples.
A great example of "team" was exemplified in the1990's on the basketball court stating this concept of every player's contribution. In 1990 the Chicago Bulls played the Cleveland Cavaliers in a game that saw Michael Jordan score a record high 69 points in a game that went into overtime. During the game one of Jordan's teammates, Stacie King had missed all four of the shots he took but was fouled on his last shot in overtime. King missed the first foul shot and then swished the second winning the game.
Team results, whether a win or a loss are the sum total of all members contributions
As everyone pressed around Jordan for an interview on his record game, one person started asking King questions. King said, "I will always remember tonight was the night that Michael Jordan and I combined to score seventy points." That's interesting perspective considering King only scored 1 point. Yet in the big picture, it was the totality of their combined effort that won the game.
Competition does not mean adversarial.
It means to compete.
To try to be the best.
Playing to a standard and not an opponent or situation
One last note on the exemplifying team and supportive sportsmanship.
It's not just about the players. It starts with leadership at the top, then disseminating thru the ranks.
In my Business Management Courses, we learn that "any organization typically takes on the characteristics of its leadership." This game was no different.
Part of this rolls into the Second Win bigger than the Championship itself which is the win of…
Win Number Two:
THE WIN OF FAITH AND COMMITMENT
On the Georgia side, getting to the Championship so soon with a recently hired coach, Kirby Smart, was not only a testament to his own coaching skills and motivational abilities, but also showed the faith his team had in being committed to his plan.
Sticking with the Alabama Quarter Back storyline, both Jalen and Tua on many occasions have shared professions of their common personal faith and a belief in their Savior and his admonition, "not my will but thine be done."
Tua in his post-game interview gave thanks to his Lord and Savior quoting that "with him all things are possible," and saying "that is what happened tonight."
He was humble and represented himself as part of the team of which he did his part when called upon to do so.
The Tagovailoa family has openly in the stands given thanks and praises for the opportunities Tua has been blessed with. Another testament to the next win of family support.
Jalen Hurts has demonstrated true sportsmanship and grace indeed than the many non-sportsmanlike responses to the situation that many others would have responded with.
While all the players I reference are human and may slip up at any time, with almost a year past now, the examples of these two, Jalen and Tua, broadcast on the world stage, have remained a positive example of a team and an example of their brotherhood in faith as well as likeminded team members that was first shown to the world the night of that Championship game 2018.
They have both extended and exemplified their example of faith past the 2018 Championships by supporting one another, the team and proclaiming their faith this year in the things they may not yet understand and in Gods timing as one of them said.
Doing so has allowed Tua to clearly demonstrate his talents while allowing Jalen to work on his passing game as a matter of focus, better preparing him for the next steps in his career. This same faith in Gods timing has also allowed Jalen the time off from the starting role to complete needed ankle surgery without the team disruption of a QB change mid-season.  Indeed both of their faith rewarded.
As this story developed for me, I wondered if I was isolated in my perspective. That question is clearly answered as commentators and fans recognize Tuas accomplishments and still raise the roof with applause each time Jalen enters a game, as happened this past week at Bryant Denny Stadium.
Almost a year later from the 2018 National Championship game and this win of Faith and Commitment is still going strong.
The third Win Bigger then the Championship itself I see as,
Win Number Three:
THE WIN OF LEADERSHIP EXEMPLIFIED IN COACHING AND FAMILY
Leadership in Coaching:
Again, sticking with the Alabama Quarter Back storyline, Crimson Tide Coach Nick Saban looked upon his team and made a decision based on individual strengths at the time and the needs of the team.
Everyone knew Jalen had a winning record and was a running threat.
As a result, everyone had scouted Jalen and the team for that exact scenario, and how to best defend against it.
Coaching kudos to Kirby Smart for the halftime score testifying to this scouting and an effective game plan.
On coach Sabans' side of the ball, and as a result of that halftime score, he  started Tua at Quarterback the second half, which began all of the commentator speculations, second guessing, forecasting of potential consequences and baiting of the situation, to which the players showed teamwork and support for one another as the first win greater than the championship.
The dialogue of the QB change and the critical divisive commentary didn't end with the game.
Early in the following football season, Alabama coach Nick Saban was questioned and pressured relentlessly to now "name a starting quarterback."
While an understandable inquiry in the grand scheme of sports reporting, the unique situation of longtime starter Jalen Hurts and his prior success possibly no longer getting the nod, seemed to elongate the spirit of commentators' dialogue that stoked the divisive fires of negative connotations on the night of the National Championship itself.
In spite of the win of sportsmanship seen that Championship night between Jalen, Tua and their team, the questions persisted to coach Saban at every occasion seeming laced with a tone of divisiveness and prodding for controversy, overlooking the lessons of the supportive example of both Quarter Backs and their team.
I found this irritating and unnecessary-even provocative, as the obvious answer was to look at who took the field as the starter and there is your answer. It seemed like a campaign to create a divisive atmosphere and "quarterback controversy" where no controversy truly existed.
Even with that, being a starter is never more than one injury or unforeseen event away from changing. So why keep on about it?
On one post-game interview, coach Saban responded sharply after being asked that same question repeatedly, to name Jalen, or Tua as the "starter"-this time from ESPN reporter Maria Taylor.
To her question he replied:
"I like both guys.I think both guys are good players and can help our team-
so why do you continually try to get me to say something that will disrespect one of the players?
I'm not going to do that, so quit asking"
While the tone sounded like that of a "Mama Bear" protecting her young as he snapped back to the question of ESPN's Maria Taylor, he was actually protecting his players and the accomplishments of both when this question finally hit a breaking point. It was also reported that coach Saban called Maria and apologized for the tone of his response.
Leadership as a coach is more than just the X's and O's
and most coaches know that. In his own way, coach Saban walked the talk of leadership not only with the risky halftime move in the championship game itself but months later by respecting the accomplishments of both Jalen and Tua with his handling of this question.
Leadership Exemplified in Family
It was Jalen Hurts' father that had coached him from an early age. The family was committed to his success. He stood with Jalen through the uncertainty of offseason, reps, and starting announcements. With the redshirt rules and talent of Jalen, he with the support of his family, could have this year, and may in some year to come, play for another collegiate team. There are things that happen in programs that we don't hear about.
Regardless of what the future holds, Jalen with the support of his family has been a standout example of sportsmanship and team this past year since the championship win itself. He has demonstrated on the world's stage his winning caliber and faith.
Thank you, Jalen for such an example of true sportsmanship and team coupled with your faith while on such a large stage. It is so needed in today's world.
And what more can we say about Tua? He too has demonstrated grace in his wins. He too is an example of faith and full family support as his family relocated from Hawaii to Tuscaloosa Alabama for him to attend and play football for the University of Alabama. His effectiveness and quarterback rating both seem to continually reach new heights. His skillset has reshaped in some ways the perception of the team as a whole and to date, he has only played in the fourth quarter, one game this season.
His regular absence in the fourth quarter leaves his already soaring statistics actually somewhat incomplete in relation to his true talent because the combined total of fourth quarters missed is the equivalent of not playing in multiple games. Yet in the spirit of team sportsmanship, his faith and the teachings and support of his family, he continues as on that championship night to remain a humble team player doing his part for the team when given the opportunity to do so.
Thank you, Tua for such an example of true sportsmanship and team coupled with your faith while on such a large stage. It is so needed in today's world.
If either of these two, Jalen or Tua, were out for themselves, and not committed to the team as a whole, things would have played out totally different.
Here is how.
In chapter eight of his book The Four Commitments Of A Winning Team, basketball great Mark Eaton describes the affect individual attention seekers can have on a team.
"They may be talented players who put up incredible stats, but they care more about their own stats…

They forget there are other players. They are not only players who hog the ball…

they are also players on the bench who complain, criticize and second- guess the coach …

and try to get others to join in their frustration."
He refers to this type of player as a "black hole" because ( and I am summarizing here) so many opportunities and benefits for the team just disappear once the ball makes its way to these players- like a black hole.
To both teams, Georgia and Alabama, offense, defense and special teams, their coaching and support staffs;
Thank you for providing a great and needed example of a true team(s) united effort and sportsmanship in a team sport. You have provided a reference that coaches and parents can point our youth to for examples of plays made, plays missed, leadership decisions that may not be clear, and individual examples of substitutions at key positions that are handled with grace, support and true team spirit.
If you are reading this and ever see a youngster "storm away" after a disappointment in a team sport, or becoming that individual attention seeker ( black hole), these three wins bigger than this championship hold your answer and an example to point to.
I hope you see the need and examples as clearly as I did.
If you liked this, get FREE updated content of encouragement and life lessons as it is available by providing only your email  here. It's never shared and you can unsubscribe at any time.
You can also follow my life lesson and inspirational Author thoughts on Facebook 
PS: Full disclosure, I am a Tide fan. My cousin on my mother's side, the late Mal Moore, was a long time part of the university of Alabama starting as a player under the legendary Paul "The Bear" Bryant and later as the athletic director, hired coach Saban.